Those who see more make better decisions.
The Graphic Recorders of "The Visual Facilitators" have been creating Graphic Recordings fully in accordance with the original origin and attitude of this method since 2005.
We are one of the largest teams of Graphic Recorders worldwide . Not only we offer a unique supply capability, but you also get an incomparable variety of visual styles.
Year after year, we capture the content of clients in hundreds of Graphic Recordings, globally. Which makes us one of the market leaders.
Graphic Recording for Meetings
Specialized in meetings and online meetings
Graphic recording for team meetings or project-, status-, strategy-meetings, e.g. Online worldwide or on-site – for teams, leadership, projects or internal processes. We are specialized in this and offer our customers graphic recording quality.
Graphic Recording Experience
Since 2005, we have made over ten thousand graphic recordings. We have experienced hundreds of different settings of meetings, events or conferences and brought them into our living learning. Which filled a treasure box of experience in our graphic recorder team.
Types of Graphic Recording
Graphic Recording was invented in the late 1970s for meetings and group dialogues. Over time, it was used for conferences, speeches, events of all kinds. Events that we have documented thousands of times since 2005. Today, we are graphic recording experts for meetings online and in presence.
The Largest Graphic Recorder Team
Our graphic recording quality badge shows the distinction of the team member's qualification in the respective field. Visual Facilitators gives customers a quality promise.  Through our trained team members. Our training is regularly adapted to current market and industry changes.
Graphic Recording: Since day one, a process-focused and facilitative method.
Graphic Recording originated approximately 40 years ago. So it's a relatively young discipline. It resides in the context of "visualization" (rather than the illustrative or artistic domain). Graphic recording focuses on supporting meetings. It helps with generating group insight, revealing essential information, promoting collaboration and group processes.
What is your benefit from graphic recording?
All in the room see and experience the visual documentation of the content live and connect with it.
The in-the-moment benefit: This very sense of connection helps your meeting participants gain insights and make better decisions. Graphic recording works on a large mural or online.
The benefit after the meeting: A visual protocol is created – with precision landing exactly at the end of your meeting. Finally, you have a re-usable documentation with all contents and results for further use in your follow-up communication.
Engaged: Our Graphic Recorder supports your moderator, event manager or facilitator. Quietly and in partnership. For this purpose, it documents in words and pictures and additionally links a wide variety of topics and content. All this happens in real time. In this way, all perspectives become visible.
Straightforward: All visualizations are created discreetly. Your meeting can remain as it is. Feel free to use Visual Facilitation to work in a participative and interactive way with your group.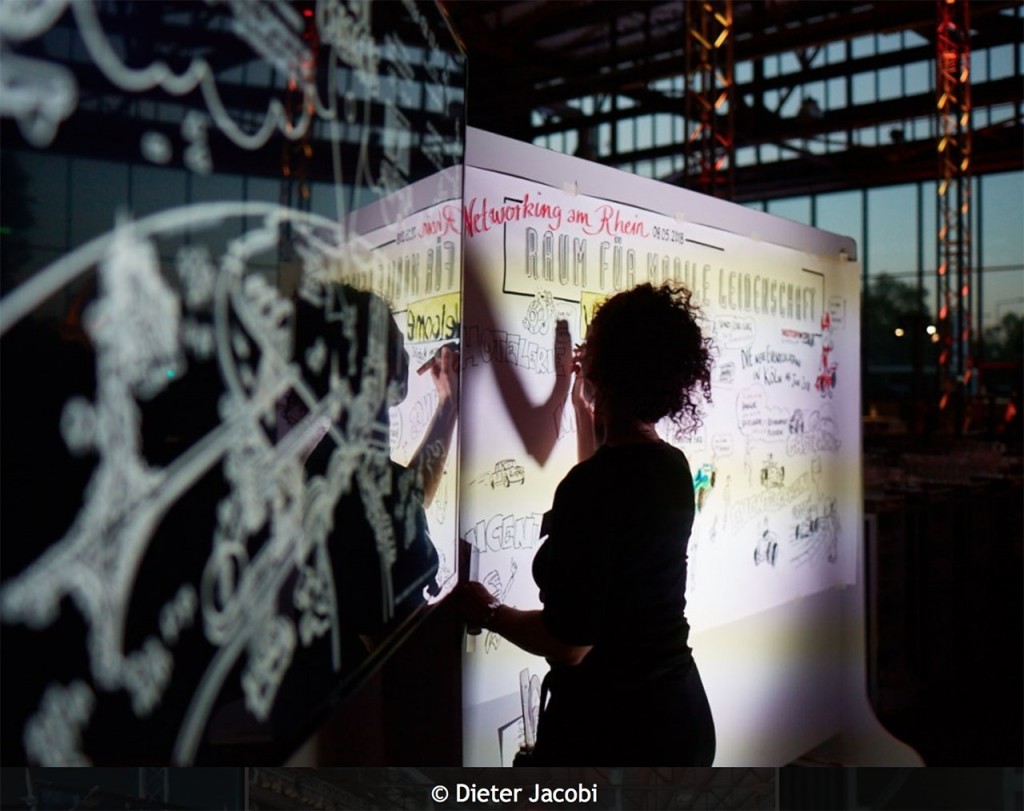 Effective: If you actively use the visual material after the meeting, you promote two things above all: Insight and sensemaking for all participants. Additionally you strengthen internal and external communication with lasting impact long after your event.
Multifaceted: Our visualizers are excellent listeners, can process large amounts of information, are creative, recognize patterns, form perspectives and take meta-views. And with their solid business training they are able to integrate visuals into your existing processes.
You received 5 quotes and prices go from cheapest to premium?
Understandable. We know why graphic recording prices are so diverse. Talk to us and we'll briefly explain why – and what you should look for when choosing a good graphic recorder.
Is graphic recording available for online meetings and events?
Of course. In fact, that's what we do most. Graphic Recording is great for memorable online meetings and productive meetings. And yes: Participants can be interactively engaged online!
In need for more insight? Then graphic recording is just a perfect solution.
You speak, we document visually and in real-time. Graphic Recording works: For strategy, idea generation or vision processes. Well crafted add-on services will contribute to the sustainability of your meeting.
"Your contribution was more than what I expected in terms of the completeness of the 'sketches'. And all of you brought a friendly, professional (and quiet) presence that matched the specific task."
"Furthermore, I would like to thank you and especially Mrs. Schneider for the very pleasant and at all times professional process support. It is always a lot of fun to work with your team! Gladly again at the next opportunity. THANK YOU!"
"Nothing is more boring than a classic structure. Visualization is an incredible support to activate the hippocampus and let a concept fall into place."
"We very much appreciated Laura's professional, results-oriented and at the same time dedicated personal support and are happy to recommend her."
"We were very pleased with the quality of the visualizations for our Ambassador Conference; both the process and the final product were a true asset to the event. A lot of positive feedback and interest in the recordings came from inhouse units as well as other participants."
"...I wanted to thank you again very much on behalf of all our colleagues. The selection of your graphic recorders was fantastic, and our staff found this new way of working very beneficial! We will be happy to come back to you again."
"Mr. Lange was great and gave us great enthusiasm. We are absolutely overwhelmed by his work! He was really fun to watch as well. Extremely professional! Everything worked out great, including all preparation work. Thank you very much for that! We will gladly keep you in mind for further activities and recommend you without reservation!"
"Thank you very much for the great result of the graphic recording, which was so well received by participants from all over East Asia, as well as by us at the Goethe Institute in Korea and the project planning team..."
"Awesome! The participants of our Klick-Tipp Academy were thrilled! The Visual Facilitators team did a wonderful job of interpreting all the presentations in a drawing. Both speakers and participants were thrilled with the verbal as well as the drawing implementation. Super job! Thank you very much for the great cooperation!"
"...it was once again terrific. I am incredibly happy to have Ms. Ferrari with us at our event. Our customers and partners were once again blown away. Thank you very much for the great cooperation. See you next year!"