Reveal the 'big picture' in a strategy visual.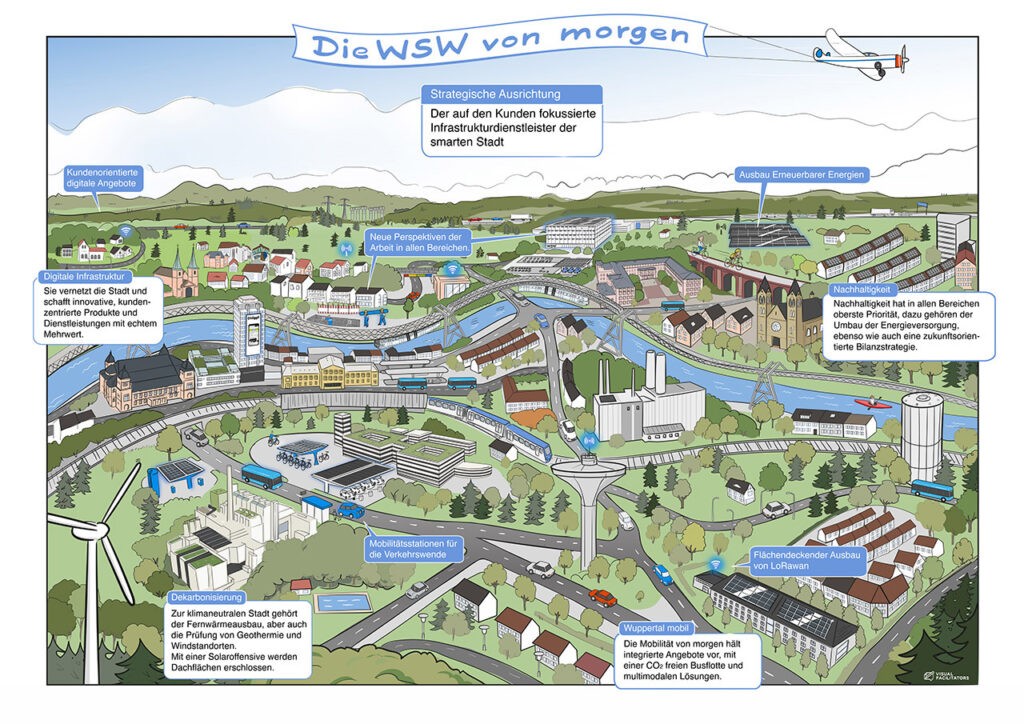 Visualized goals are not only powerful top-down communication methods that enable you to communicate company-wide strategies. They can also give you the chance to establish strong impulses for change and transformation in your organization. In this way, a vision becomes an imaginable goal. And employees and managers have orientation in challenging times.
Goals visualized work from the inside
Best Perspectives: With Target Visuals
Proven track record:

Clients reaching goals and targets with visuals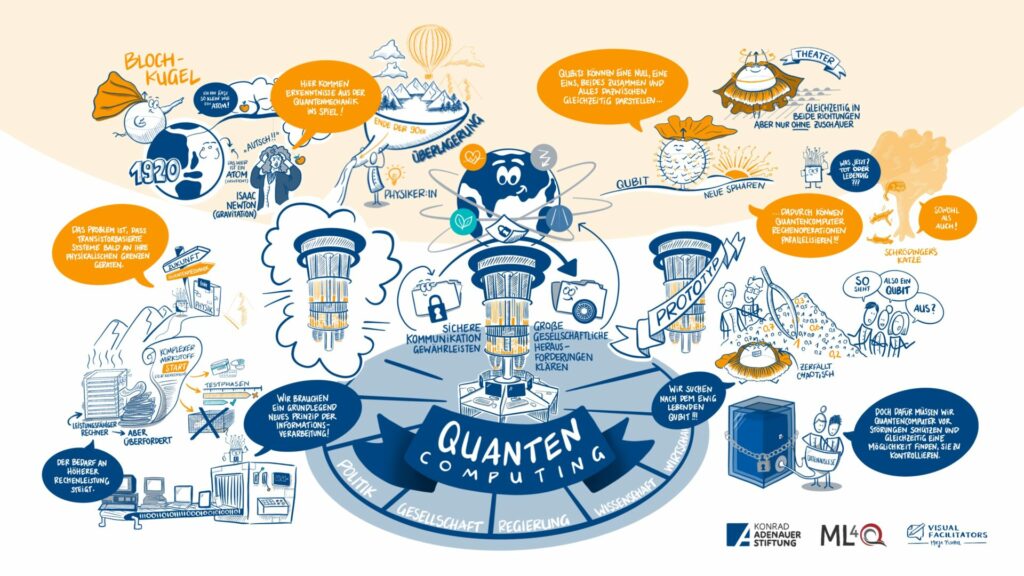 Let's first look at the special qualities of target images, which sets it apart: They offer great advantages over classic media such as PowerPoint or text-heavy brochures, especially for communicating goals and vision. While PowerPoint presentations are linear – slide by slide – target images reveal the where the journey is headed. In this way, correlations rapidly become obvious. People identify with the goal.
The use of target visuals is a useful addition to change: They activate and stimulate reflection. In addition, they promote dialog in your organization and contribute to the exchange of ideas between all participants. That's why we recommend the use of target images especially when you want to provide orientation, transfer knowledge or show connections.
A visualized goal explains where change in an organization will lead to.
A goal visual helps communicate a vision.
A target picture shows which processes are relevant on the path to the target.
A target visual connects the thoughts and questions of people with the 'why' – and provides answers.
A target visual supports executives in decision making, as well as the company in its strategic orientation or its communication with stakeholders.
Visualize your goal in a target image – in co-creation.
And how do we reach the best possible result with such a change or learning map – sometimes also called insight picture or dialogue picture?
Success is what follows: First, the participants need to understand the "why". In the next step, we design together with you in a co-creative way what it is about and what should be shown.
Among the most important success factors in developing a target image is the definition and planning of facilitative workshops, user manuals and the use of visualization. Here, we advise as process facilitator and visualizer for the roll-out of the target visual.
Well planned, perfectly implemented
Target visuals require thoughtful preparation. And, moreover, a strategy for the dialog-oriented use of the final image. This is because its onward communication may vary from an established form of communication.
For this to succeed, we create the respective 'product' with you in close contact with several levels of your organization. The more  management is involved, which we strongly recommend, the better we achieve the greatest possible success.
Final version - Your visual in application
Once completed, your target image or "vision map" is a tailor-made "one of a kind". The best thing about it: It enables you to reach thousands of stakeholders. Thanks to the visual approach, this works smooth and quickly – and even globally across languages and cultures.
For example: with a target image / goal visualization, you enable people to understand a change measure and thus make them supporters of change.
Whatever goal you want to show
With your target picture you can show what you want to say. Even a simple target visual already helps to provide answers to questions and to make a vision tangible. Target pictures are motivation and orientation at the same time.
And if you yourself would like to grab a marker, then we will gladly support you during a live session. Thus an impactful dialogue chart can emerge in real-time which you can then use in your organization.
"The visualizations have been incredibly helpful in presenting complex and innovative concepts and strategies in a simple way. We have used the visualizations within all levels of the organization, i.e. to convince management of a vision or to design our intranet site. We continue to use the detailed and content-rich visuals we developed together to keep issues and progress present."
"We used visualization for the first time in our strategy meeting and gained valuable experience with it. During the meeting, the visualizations could be used excellently to take a brief look at discussions and decisions that had taken place. After the meeting, we surprised our team by using the visualizations to present what had been discussed and developed during the meeting. We received positive feedback throughout."
"Besides the Quality of the Scribes - it is the interest of VF to understand the topic of the session and the atmosphere in the facilitation team to CREATE an inspiring moment"