VISUAL FACILITATORS – Pioniers since 2005
"Supporting people and projects, bringing them to their potential and making a difference!" ...
That was important to Mathias Weitbrecht at the beginning of 2005. At that time, he realized that although he was working in an exciting field, it was quite "technical". As an "information architect" in world-renowned agencies and consulting firms, he was responsible for structuring large amounts of information so that people could navigate it. But there was "too little human" in it for him, too little work with the potential of people and organizations.
Even though he worked as an information architect in San Francisco in the middle of the New Economy in 1999, where he contributed on the world's largest websites (such as the very first online car configurator at the beginning of the 2000s for www.audi.com) the task was no longer fulfilling in the end.
A desire and the attractiveness of the New
Mathias had a hunch that something else was waiting for him. It should have to do with people and organizations – and with the potential that change and current challenges need.
As an expert in information, he knew that vast amounts of information and complexity could not puzzle him. And it was clear to him that the decisive factor for people was that information comes into sensemaking and clarity. Thanks to facilitation and coaching, which he already actively practiced, he knew about the potential of dialogue, participation and co-creation.
A Chance
So Mathias had a goal. However, it was clear to him that entering a new professional field – despite prior knowledge – would not be an easy path. He needed support.
Mathias wrote to a consultant friend that he would like to work with him. Christian Rath was a successful organizational developer and combined his experience with Integral Theory, which Mathias, inspired by Christian, had also been studying since 2002. Christian in turn clearly saw the potential of visualization in Mathias and actively mentored it. It was a key moment when Mathias was handed his first business card in this new job. It said "Information Architect" – just as the old job title from the previous identity.
It took him a few moments to understand: Filling information architecture with life and embodying it as a new interpretation – This was possible with visualization, of course!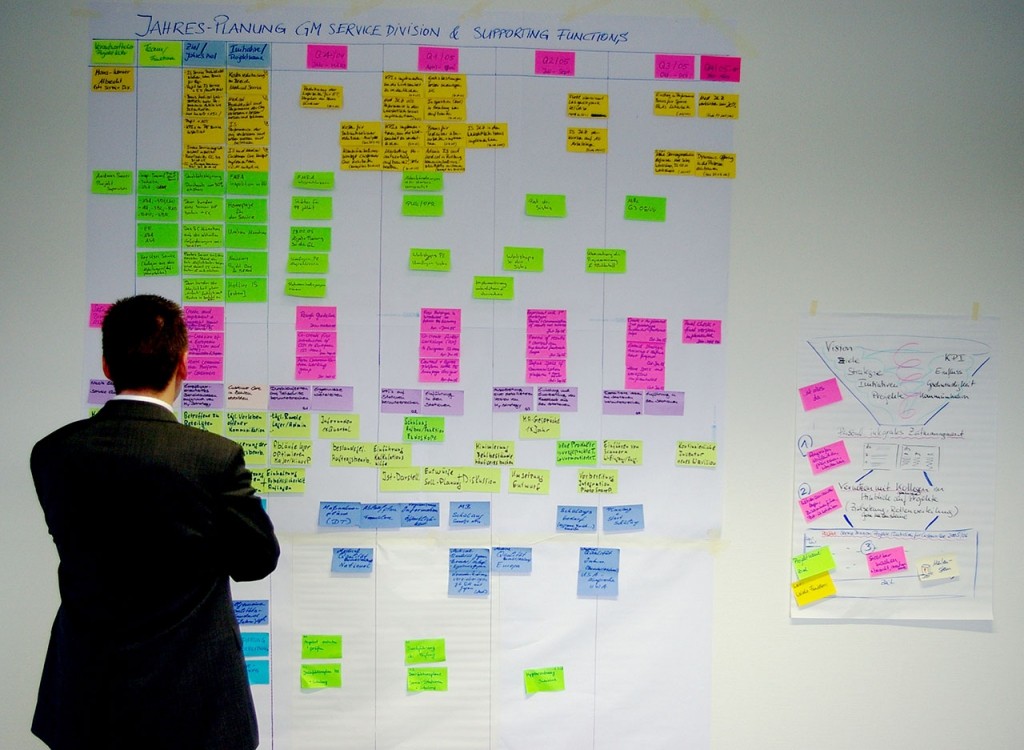 A New World
After a few years and many strategy visualizations, Mathias found himself working on large projects. The highlight was the strategy of a Japanese corporation that operates globally. This company had never created a detailed strategy in a complete large business area (medical devices). A regional branch in the service area had such a good experience with the strategic cooperation, which was in full facilitated visually, that the project was extended to the whole of Germany. Then all of Europe. And then globally. The entire project was supported by visual project plans, hundreds of knowledge visuals and process visualizations. A fulfilling mission!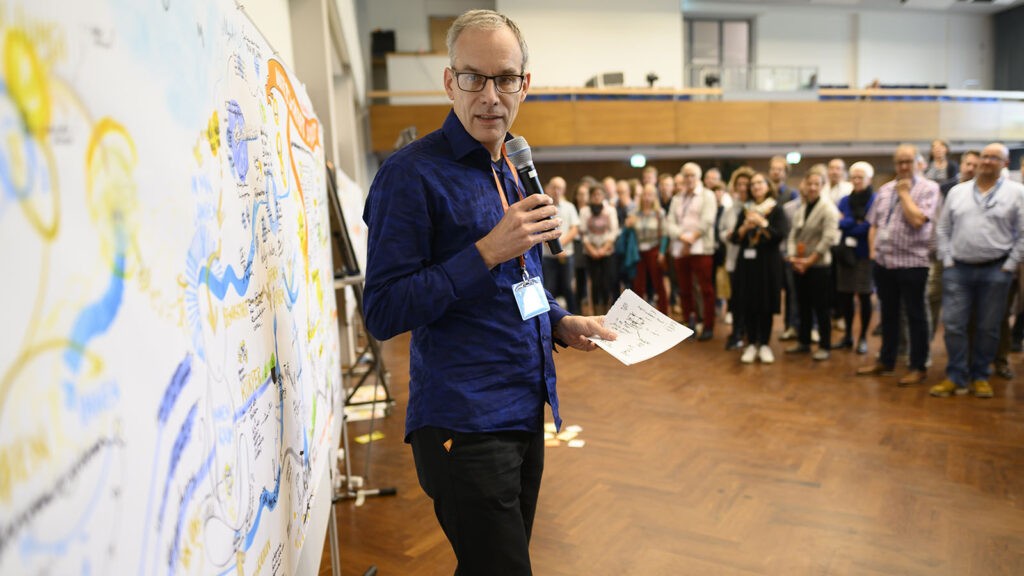 A Vision brought to Life
After completing this project in 2008, Mathias began to accept more Graphic Recording requests after gaining experience from many hundreds of strategy visualizations. At that time, there were just two dozen experts in this interaction visualization method in Germany, which was only a few decades old. All pioneers. Mathias traveled through Germany and Europe three times a week to deliver Graphic Recording and Visual Facilitation assignments. Valued client contacts and relationships stem from this time.
Now Mathias realized that it was time to bring to life a vision he had been feeling for a long time – to build a business that was different from a personal one-man business. The many requests called for working with a larger team. Creating a strong brand with a purpose in the world was exactly his version.
An enormous Growth
It was during this time that EXPLAINAS first came into being: now a premium explainer brand, it was one of the very first explainer video companies on the market at the time – long before the boom in explainer video providers. Mathias asked Malte von Tiesenhausen if he wanted to produce explainer videos with him. Malte had already had the same idea. Explainas was born. And the two of them brought in Eckhard Feist for post production (editing and sound recording), who is now a long-time explainer film pioneer.
Then VISUAL FACILITATORS grew: Mathias also introduced Malte to Graphic Recording, took him to client assignments and taught him the basics. Malte's extraordinary, literally outstanding illustration power came in combination with a 40 years old facilitation method. This changed the visualization community, he became one of the first representatives of an illustrative style, yet anchored to the root of Graphic Recording. Hundreds of great, convincing Graphic Recordings and Strategy-Visuals were created.
Today, Malte von Tiesenhausen is no longer active through Visual Facilitators, but we owe him an enormous debt of gratitude, as he helped make the company successful and famous. And we made him famous.
The same thanks go to Daniela Volkert, who supported Visual Facilitators from 2013 to 2019 as client and team coordinator. Without her entrepreneurial thinking, ideas and empathy for the team, the company would also not be in the place it is today. Today, she works at Frændi and TheCore.
A Maturity Phase
No crew is made to last forever. The first years of Visual Facilitators were still characterized by a certain "startup atmosphere" and our staff were like adventurers. In later years we became more and more experienced and as a result after some time everything became more standardized and systematized.
It's perfectly normal that in a more mature phase of the business, the same fellow adventurers who were there in the start-up phase are no longer on board. Adventurers come at the beginning because they want to create and are looking for personal growth. Today we are looking at a solid company, which together with the adventurers has brought something into the world. In keeping with the times, we are still setting out for new shores to determine our position in the "Blue Ocean".
In 2014 Visual Facilitators moved into the office in the heart of Hamburg, 30 seconds from the water of the Binnenalster. This "headquarters" of the company in its prime location is still very significant today, even though numerous team members live spread out across the region and Visual Facilitators has a global impact.
In 2015, Mathias published his book "Co-Create! – The Visualization Book"(Link). The book is distinguished by two special features. First, it is written from several perspectives, including not only the visualizer's perspective but also the client's perspective. Second, there is an extensive chapter on the skillset of visual practitioners, especially graphic recorders.
After customers were so enthusiastic about visualization, visualization trainings were offered, which covered more than 40 open trainings in 2016, for example, and supported many companies individually in having their staff trained in a visual approach.
In 2016 Mathias released the first online visualization training on the German-speaking market. Together with Malte, who contributed his training expertise and helped make the course successful, it has now reached strong four-digit participant numbers. And was the pioneer for other visualization online courses.
Since Visual Facilitators started in 2005, the field of graphic recorders has exploded, especially since 2014 to 2017. That visualization and facilitation can contribute to solutions, especially for corporate and global issues, has been a core motivation of Mathias and thus of Visual Facilitators since day 1.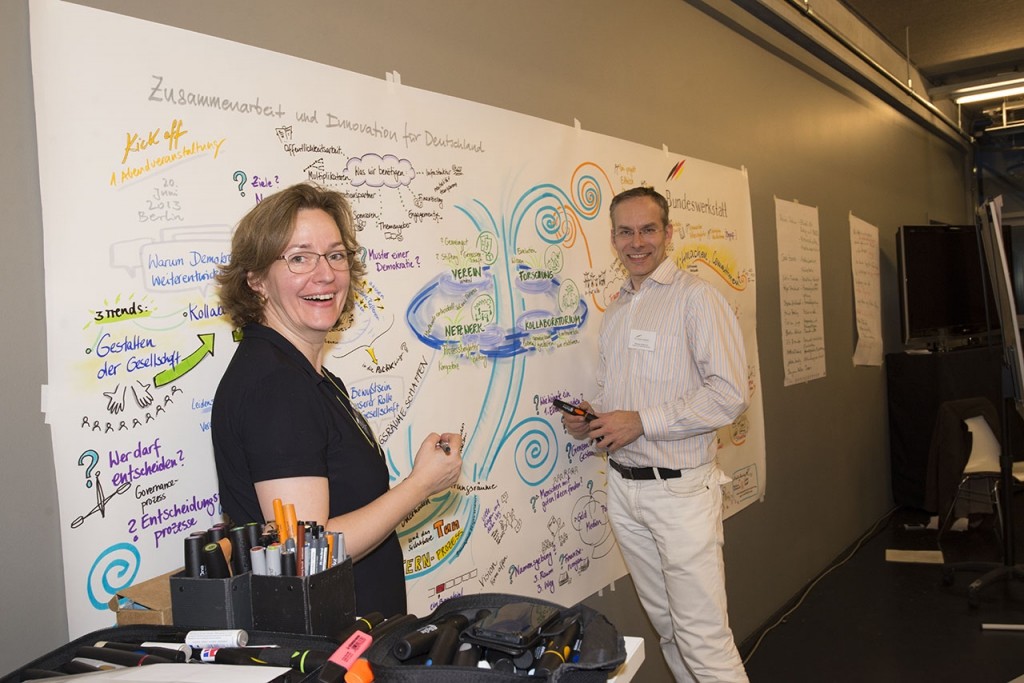 In the course of this, a partnership with process designer and "flow architect" Sabine Soeder (CoCreativeFlow) was formed in 2016, with the aim of bringing the complementary thematic and creative covers closer together.
A Shifting Timeline
At the end of 2019, a large team meeting of all Visual Facilitators took place with 29 participants. This was shortly before the global turn of February/March 2020. The change in the world since 2020 has moved Mathias and the team to strictly align the offer with the rapidly changing needs of companies – as the core target group of Visual Facilitators. Taking a cue from the many lockdowns that come and go in waves, the offering has been consistently converted to online. On-site trainings were dropped, and Visual Facilitators went into innovation, adding online coaching and live Q&A calls to all online trainings: supporting the digital alignment of the business and customers where it's needed.
Already from 2018 Visual Facilitators has gradually shifted its focus and positioning more and more towards strategy visualization and the making of visualized target images, mission statements, visions and values.
A Path into Tomorrow
Today, Mathias Weitbrecht and his team of more than 35 Visual Facilitators are one of the market leaders and pioneers in the German-speaking world when it comes to strategy images, graphic recording and premium explanatory films. Visual Facilitators' clients achieve outstanding results through visual means and the targeted integration into their strategies. Meanwhile visualization as an elixir for the world is a confirmed method. In 2020, Visual Facilitators turned 15 years old. This occurred in a year of global change without much celebration, press or external communication. Our path into tomorrow focuses strongly on the solutions and benefits that our customers will gain. Always with our inner attitude of openness for our customers.
And VF's latest global offer? Graphic Recording for the Dubai and Middle East market.
Over 10,000 visuals delivered
Since our founding in 2005, we as a team have created over 10,000 visualizations. We are very proud of this achievement. Our solution scope, our market-leading experience, and our dedicated team are some of the success factors at play. The transformational potential for our clients and our global footprint make us a trusted partner.