Visualization Trainings are one of the Most Valuable Professional Development Programs today
Innovative programs: Personalized learning, mentoring with results
A typical online course can be challenging. Our unique didactic concept provides you with ideal support at all times. Targeted, to-the-point solutions that get you to the next breakthrough in online meetings, project management or team communication. These online programs are modern and up-to-date and can be individually applied to your business.
Use visualization to give yourself and others a clear overview in mutual projects and meetings. Give structure to anything complex and create excellent communication – visually. Access plans also available for teams.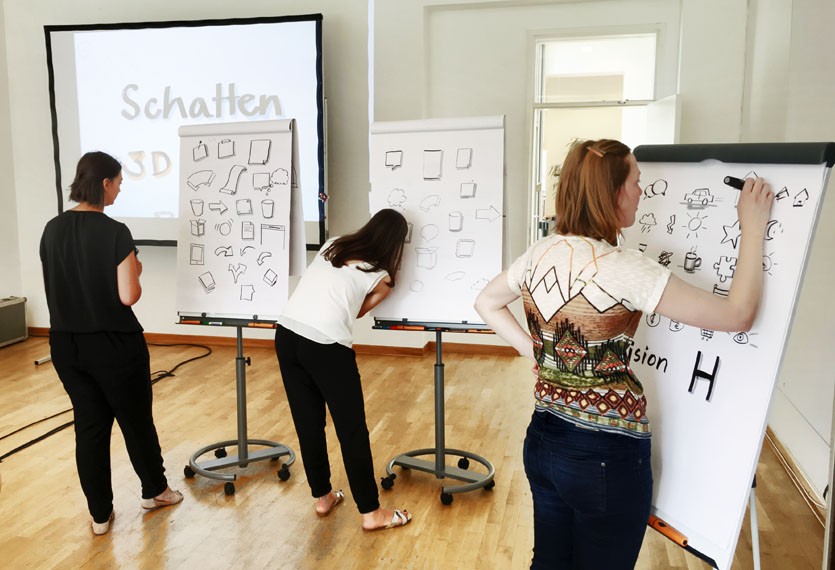 Do you know this? You want to learn something new, but at some point you're done? Too little time, no motivation, you lose the thread and do not progress? Here is your solution, that will answer your questions and provide regular stimulus to keep your learning on track. You know: When the course is over, the real questions will come - e.g. in a current project. Unlike other (completely automated) courses, you are not left alone here.
Learn about mindset in order to be a successful visual practitioner. Become the next version of yourself as a successful visual professional. What would your work life look like if you had cut through your main blind spots?
Even if you need to be highly flexible around your job requirements and/or work in a home office environment, your online course is designed around your schedule. You always have your materials at hand, can learn in your own pace – and ask your questions online. So start now and learn visualization!
Through the use of visuals, you  bring content, messages and topics to the point. You use images to engage with others in a more quick, interactive, holistic and sustainable way. The ability to visualize makes you more capable in any dialog. It contributes decisively to the quality and success of any projects.
Even more: By using visualization, you more efficiently foster your potential of new insights, perspectives and ideas. You and your organization will benefit from this.
Use our Online Programs! You can learn in your own pace and at a location of your choice.
You've come to the right place: No matter whether you already have some experience, are very advanced or do not yet know exactly where to go with your
visualization skills: With us, you always get the right training. Because we tailor visualization workshops to your individual needs and adapt them exactly to your level of knowledge.
As individual as your level of knowledge is, so individual is your style. And that's exactly what we encourage. After all, we deliberately focus on style diversity instead of prescribing a specific visualization style for you. What we show you is proven, simple and worth repeating.