Solutions with visualization
Visuals get you where you want to go
Do you know this?
Your organization has increased in complexity
People and culture clash with rules, hierarchies, processes
Taking people along is a challenge
All of this in a world that is changing rapidly.
Our solution for you: Let them see what you mean!
"WHEN IN DOUBT: VISUALIZE IT!"
Visualization Gets You to Your Goal
Before: A new mission statement and set of values were communicated and found little acceptance among employees.
Solution: The visualized mission statement and a facilitated roll-out by leaders improves the corporate culture considerably.
Before: In a change project it was not clear to staff members where the journey was going. Resistance emerged.
Solution: Goals in a visualized form, created and rolled out in a participatory manner, bring clarity for everyone. And provides identification.
Before: There was ambiguity of which direction to go in the face of volatile changes in market and world.
Solution: The vision, custom-visualized, brings true power back into the organization and to its implementation by the teams.
Before: A team was in over their head with internal tasks and external communications.
Solution: A visualization online program with live coaching calls ensures that visual thinking provides support as an active skillset.
Before: A team suffered from ineffective online and hybrid collaboration.
Solution: A short series of facilitated online meetings empowers the team to work with templates and good meeting structures. This provides efficiency and enthusiasm.
Before: A company's leadership team did not understand the vision.
Solution: A customized strategy visualization including a vision visual provides strength and understanding to the leadership team and any implementation.
It's Not Primarily About Drawing.
It's about making something deeper visible.
Do you plan meetings, internal conferences or workshops? Should content and flow be recorded in text and images at the same time? Digital or analogue? Visible on large wall-sized charts in the room ? Would you like to have the main points be communicable and tangible? And if possible, also all around the world? And throughout all departments? In this case, Graphic Recording is your best solution.
Would you like to visualize the main points of a project, a change project, a vision, or a strategy? That will be your Target Visual. We also call it  strategic visualization. With such powerful media, you can bring together messages, information and knowledge into a coherent "Big Picture". Strategic visualizations are very impactful and are a very sustainable tool.
Regardless of whether you will communicate internally across all levels or communicate to the outside, kick-off an implementation and would like it to be facilitated over a longer period of time: strategic visualization is the tool of your choice, be it as a static or moving image (explanatory videos).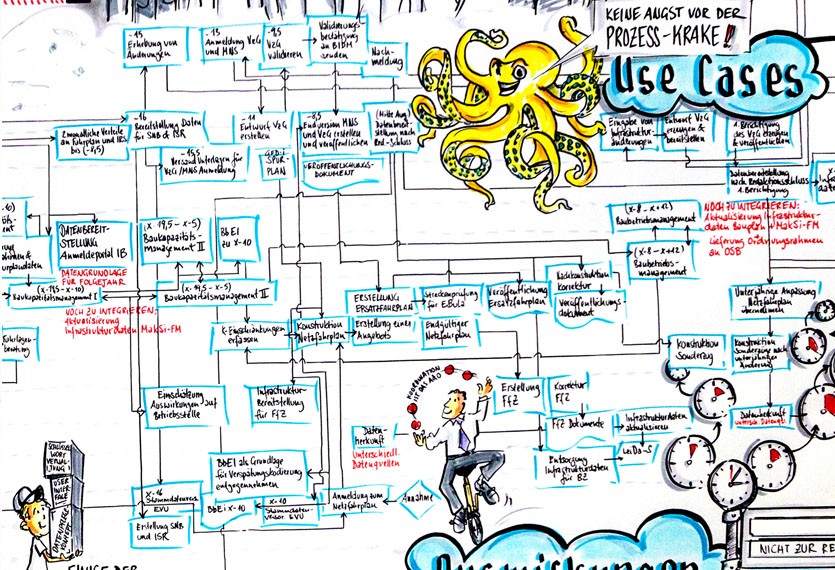 Create new opportunities: Some kinds of visual solutions such as Process and Knowledge Visualization are ideal for so-called "wicked problems". In case of issues such as these, normal solution approaches tend to fall apart – or will often fail. "Wicked problems" are often about social, geopolitical and global challenges.
You can tackle this using Visual Facilitation. A visual facilitator will make as much as possible visible of the iceberg – unveiling that which lies below the surface. And thereby facilitate a better path forward. Likewise, we consciously allow and include any "Not Knowing". Thus you can include everything – anything visible and anything not visible.
"... first of all MANY THANKS for the great result. Even after the event, there was great praise from all sides for the overall picture. We are super satisfied and think also for future events gladly your offer."
"Furthermore, I would like to thank you and especially Mrs. Schneider for the very pleasant and at all times professional process support. It is always a lot of fun to work with your team! Gladly again at the next opportunity. THANK YOU!"
"... Even if the topic is very technical, graphic recording is worth it - especially for interactive sessions! You will continue to hear from us in the future."
"Sympathetic, creative and effective: This describes not only the explanatory films, strategy images and workshop visualizations by Visual Facilitators but also our collaboration with Mathias Weitbrecht and his colleagues. Whether presentation, strategy workshop, presence or e-training - we and our customers are thrilled."
"Vielen Dank für diese wirklich tolle Arbeit. Ich bin begeistert! Herzlichen Dank für die perfekte Umsetzung!!!"
"… Ich habe solch eine begleitende Darstellung noch nicht erlebt. Das macht Freude und bildet Erinnerungen ..."