How do Processes and Knowledge Profit from Visualization?
What and how are things connected? Which steps follow each other and when, how and why? And how can one be sure that all participants will truly stick with it? Especially in the case of projects and measures of change, participants or project members will often step out. At least after a certain size or length of project. In these cases, it often helps to have visually depicted processes and knowledge. Just because the visual display reconnects the participants to the respective intention or content.
VISUALIZATION CREATES UNDERSTANDING.
What is Process Visualization?
Process visuals grant you or your customers the necessary overview. Whether revealing a client process, a customer journey or supply chain or any practical representation of knowledge in your company – visuals supports your processes holistically.
Starting with the larger, overlaying context, we depict your process or flow visually within a context. For this purpose, we use visual tools such as timelines, symbolism, storytelling or metaphors. As a result, we don't just communicate dry data and facts in a visual manner: It is always our intention to create emergence, experience and insight.
Methods and tools of process visualization
Process visualization depicts the factors that are related to or influence a process – which can range from a very few to a large number of interfaces or stakeholders.
Our approach is based on a solid understanding of your challenge in your project or organization.
To do this, we use tools to gather information on stakeholders, corporate units, influencing factors, correlations, and so on.
Such visuals are tremendously useful in management processes, in quality management, in automation or process engineering, in many business processes, etc., as well as in R&D.
Sometimes it is also about creating an entire "process landscape / process map" to reveal the structure of several or all company processes and how they interact.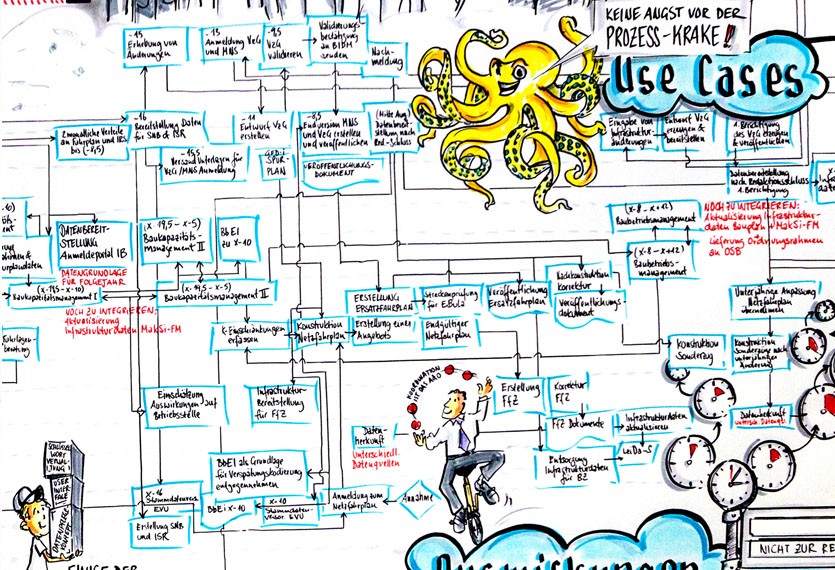 How does a process visualization project work?
You as a customer will be well guided through your project.
Together with you, we identify the core processes on a project or company level.
We observe the problem or process and together we create an information prioritization.
This is followed by a process analysis, process design and a possible outlook on the desired process optimization.
Main and sub-processes are visualized. In the process, we work with you in several versions and close feedback loops. 
At every step, we make sure that the deliverables fit well into your organizational process model. And how the visualized processes contribute to your project or strategic goals. Our intention is always to anchor solutions.
Make your processes visible.
Process visualizations are made from our studio. You work with us via online meetings or phone conferences.
Take advantage of a visual flowchart as a template for making your steps transparent. Our process visualizations are customized for you.
Experience makes a difference.
With hundreds of visuals and customers. we are very experienced in such project workflows and the creation process.