Visual Facilitators helps businesses get to the core of their goals, visions, values and strategies:
Reach people

Improve corporate culture

Facilitate change

Design online collaboration.
Vision, mission statement, values or your strategy – in a simple way so that you reach people.
Are you digitizing your meetings? We visualize them for you in such a way that your employees and customers really understand.
If you really want to make a difference, show it!
Being visible inspires your goals: Documentation and moderation in visual form, wherever possible in an agile and self-organized way.
Visualization tools make your processes interactive – in business, in meetings, workshops, projects and at events.
Benefits: What Customers Say
You are challenged around corporate culture, strategy and vision? We visualize everything that needs to be explained, so you can make better decisions and use communication more effectively.
This is what you get:
Visual Facilitators GmbH is a team of >35 visual strategists, facilitators and graphic recorders. For our clients we visualize goal-oriented B2B solutions for strategy, vision, corporate culture and meetings. Working with us starts with your desired future state and then focuses on implementation. You can work with us worldwide, both online and in person.
"The visualizations have been incredibly helpful in presenting complex and innovative concepts and strategies in a simple way. We have used the visualizations within all levels of the organization, i.e. to convince management of a vision or to design our intranet site. We continue to use the detailed and content-rich visuals we developed together to keep issues and progress present."
Global Big Data Org.
Head Corporate Digitization
"... first of all MANY THANKS for the great result. Even after the event, there was great praise from all sides for the overall picture. We are super satisfied and think also for future events gladly your offer."
Rik Rasor
Fraunhofer Institute design engineering mechatronics IEM
"Your ability to translate abstract complex topics into a clear message is remarkable. In a business world that is getting faster and more opaque, seeing the 'big picture' is more and more crucial. Visual Facilitators gives organizations an overview to put the pieces of the puzzle together in order to succeed."
James Kalbach
mural.co
"Professional service provider that deploys top-notch graphic recorders. A clear recommendation."
Health Sciences Client
Corp. communication and marketing
"Das Ergebnis sorgte für Begeisterung! (…) Das Video überzeugt durch seine Kreativität und detailgetreue Darstellung. Wir bedanken uns für die gute Zusammenarbeit sowie die schnelle und vor allem flexible Bearbeitung gemäß unseren Wünschen."
Marc Lösken
Head of Brand Logistics Porsche
"Wir haben die professionelle, ergebnisorientierte und gleichzeitig engagierte, persönliche Unterstützung (...) sehr geschätzt und können sie gerne weiterempfehlen."
Christian Bonk
Director Global Procurement, Melitta
PROVEN SERVICES FOR CURRENT CHALLENGES
Case Studies: Solutions For Your Goals
Mission statement visualized
The client: SME from logistics, service and industry
The goal: Reach people, Process facilitation
The solution: Frame, manage and implement the process with the visualized mission statement. More information (German) …
Target image: Factory of the future
The client: Industry SME
The goal: Convince stakeholders, implement a major global project.
The solution: A visual that fosters identification developed in several stages in a participatory way …
More information (German) …
The client: Medium-sized company
The goal: Integrate all stakeholders and create a shared overview.
The solution: Graphic recording opens a space in which the content is appropriately brought into presence and interaction. This leads to more active participants and better decisions …
Read more (German) …
FINDING THE BEST PATH TOGETHER
People Love Clarity. In 3 Steps:
Culture topics, projects, products, services are often complex and not easy to explain.
Visualization supports you in communicating as clearly as your business requires. We're on your side in creating clarity.
Your initial call and your goal: You have an initial strategy meeting with us free of charge. Among other things, we get to know your goal.
Your expert advice and a solution: This is where we develop a suggestion for a solution to your challenge. And start the path to your visual result.
Your implementation and clarity: You start using your visualization and observe or measure how it helps you achieve your goals.
Graphic Recording Dubai – Scribing Benefits for Meetings, Workshops and Events There's something new at Dubai events – visuals on the wall, so-called graphic recordings.
Read More »
If you want to book a Graphic Recording and then make it a success, there are some points to consider. Your graphic recording booking requires
Read More »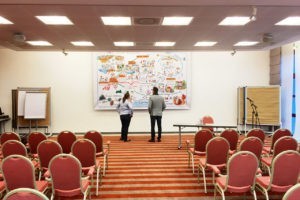 Why is Visual Strategy essential for Vision, Goal Achievement and Change? Visual Strategy: The Initial Situation An entrepreneur has to face enormous complexity, both outside
Read More »
Mathias Weitbrecht is a European pioneer in the fields of strategy visualization, process facilitation and graphic recording. Since 2005 he has been developing products, business models and team solutions for this purpose. He is the founder and CEO of Visual Facilitators GmbH. His book "Co-Create! Das Visualisierungs-Buch" has been published by Wiley Publ. He loves to see when customers put their visuals into active use and thereby reach their goals. Yours too?
Communication accelerator
Sensemaking Alchemist
Organizational Enabler
Trusted Partner